SMEDA Invites Proposals for Federal Budget 2021-22
SMEDA, in its efforts to support SME development in the country, conducts a round of consultation with key stakeholders including SMEs, Chambers of Commerce & Industry and Trade Associations for obtaining views/inputs related to the SME Sector for developing recommendations for consideration of the government while formulating the Federal Budget. In this regard, SMEDA has initiated an exercise to solicit recommendations for Federal Budget 2021-22. It is requested that SME issues and recommendations regarding fiscal measures (taxation & incentives etc.), tariffs, customs, export promotion, regulations, or any other, may kindly be shared with SMEDA. Furthermore, inputs are also required on identification of laws/ regulations/ licenses and permits that may be simplified for ease of doing business
Kindly send your recommendations and proposals for the Federal Budget FY 2021-22 as per attached templates:
Template-I for "Recommendations for Federal Budget"
Template-II for "Simplification of Rules, Laws, Regulations for SMEs"
by Friday, 22nd February 2021, through email at This email address is being protected from spambots. You need JavaScript enabled to view it. or at following address:
Maryam Anas Ganaie
Assistant Manager
Policy & Planning Division
SMEDA, 5th Floor, Aiwan-e-Iqbal Complex
Egerton Road,
Lahore
SMEDA and TDAP ink MOU
The Small and Medium Enterprises Development Authority (SMEDA), Ministry of Industries and Production and the Trade Development Authority of Pakistan (TDAP), Ministry of Commerce have joined hands to make coordinated efforts for promotion of exports from the SME sector. Both the organizations have inked a Memorandum of Understanding to organize mutual cooperation for complimenting efforts towards export and trade development with a special focus on increasing capacity of women entrepreneurs to export and use e-commerce platforms.
Under the MOU, both the Parties have established a regular and reciprocal exchange of trade and economic information and also information concerning important international and domestic events, carried out for the purpose of identifying business conditions and opportunities. Both the organizations are exchanging information relating to the joint working programs relating to export promotion in the SME sector.
TDAP is facilitating SMEDA's linkage development with Commercial Sections in the Embassies for Trade Data, Information and SME related activities. Both the organizations are also planning to conduct joint training programs, seminars and workshops locally as well as internationally, on all aspects of exports and skill development for SMEs and women entrepreneurs including the usage of e-Commerce, online business and business digitization.
The MoU, concluded in this regard has enabled SMEDA and TDAP to promote and execute various initiatives also relating to Pakistan Goes Global (PGG) program.
It is notable that the collaborated efforts of both the organizations have proven to be very helpful for SMEs, especially the women entrepreneurs for having useful information and practical support from the two business development institutions.
SMEDA's another step towards Ease of Getting Business Information
SMEDA's another step towards Ease of Getting Business Information. Just call "SME Business Helpline" (042) 111-763-111 Monday to Friday (9 AM - 5 PM). Now SMEs can get free information on given areas from experts:
Pre-Feasibility Studies & other Services

Business Registration (Individual, AOP, Company)

Sales Tax on Goods / Services & E-Filing (e-FBR)

Import / Export Procedures (Including WEBOC)

Federal & Provincial Business Licenes

Income Tax & E-Filing (e-FBR)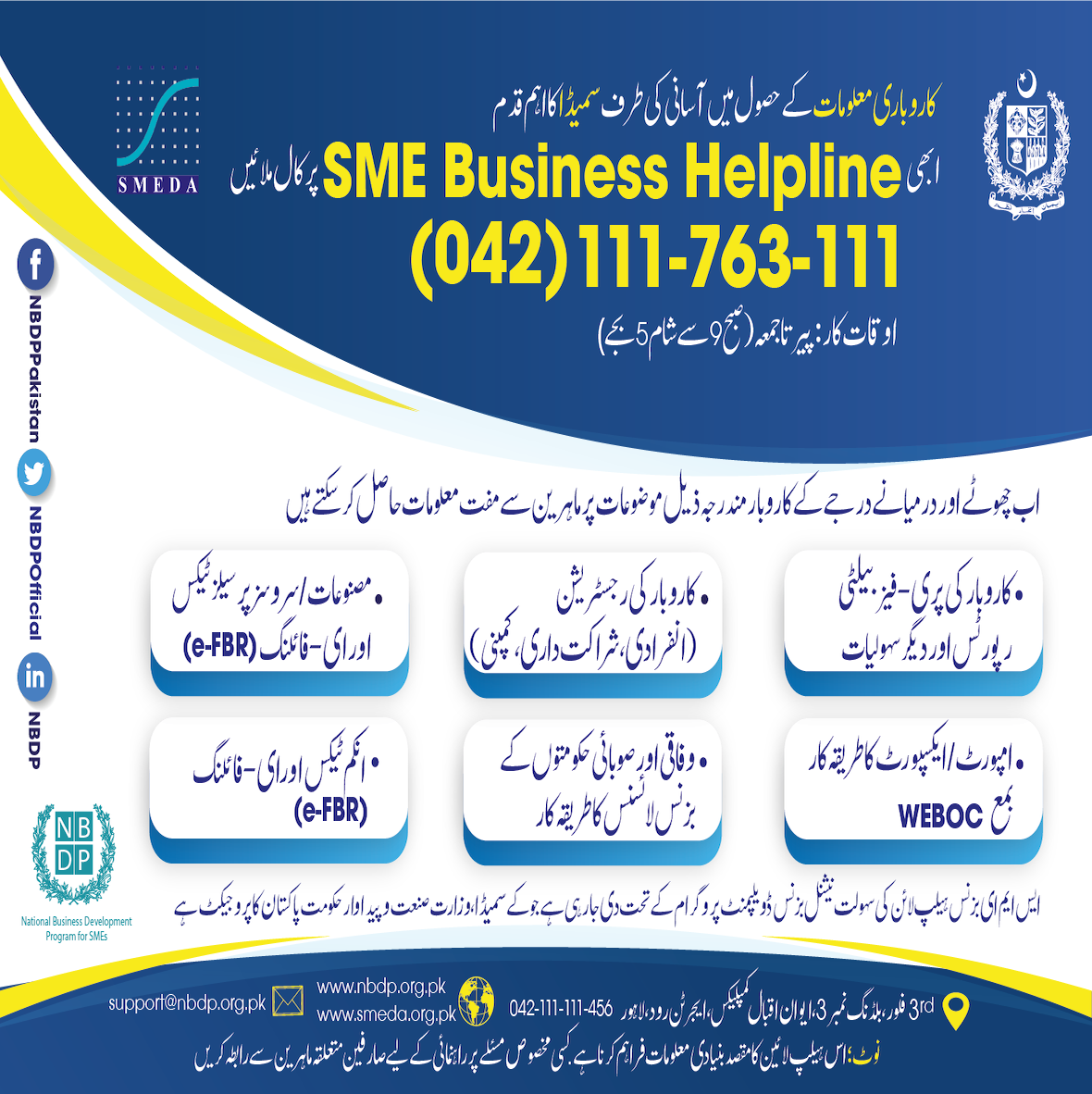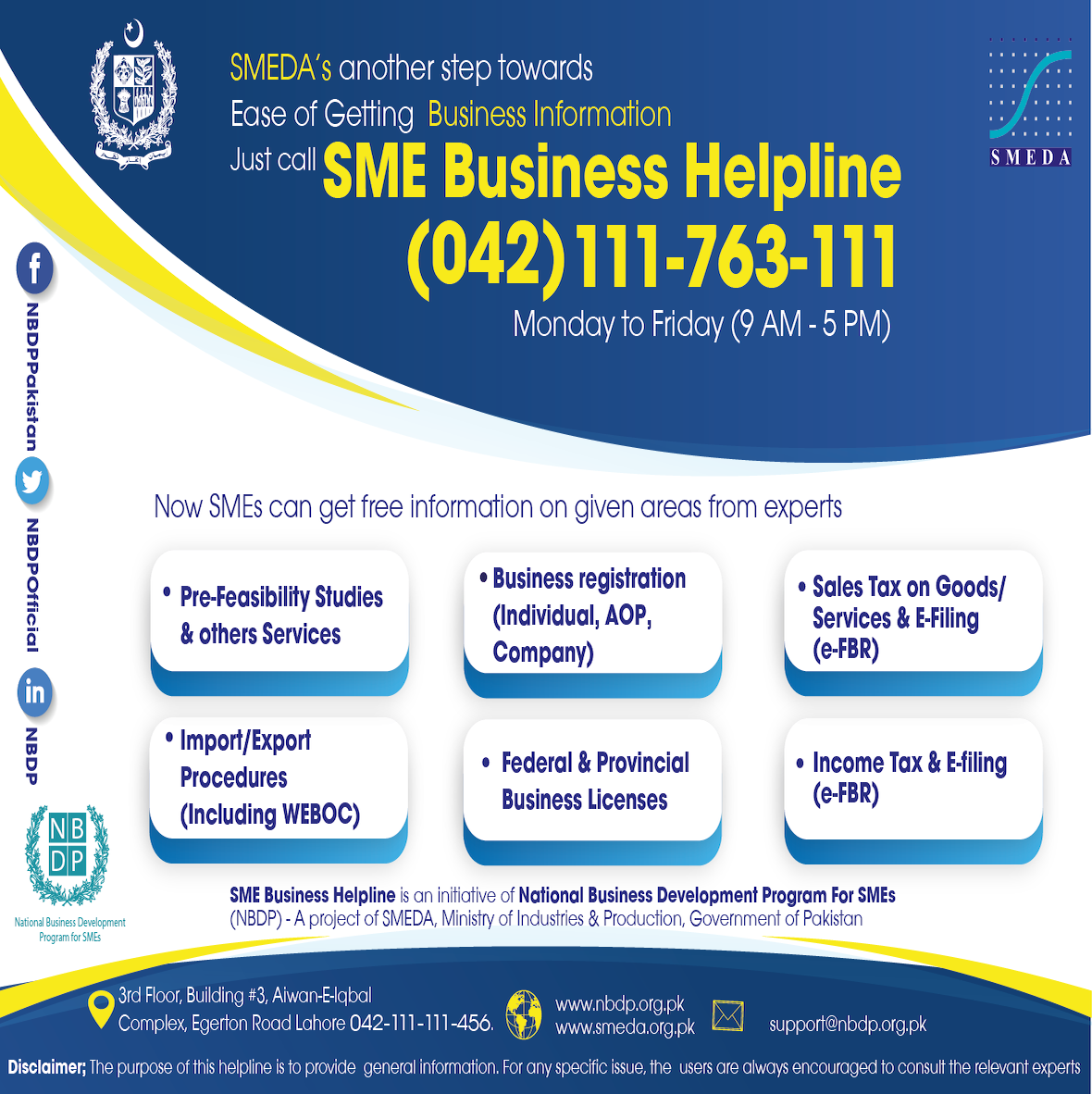 SMEDA's Survey on Impact of Covid-19 (Coronavirus) on SMEs
Pakistan is facing the brunt of Coronavirus outbreak as the country is in a partial lock down. This has had a negative impact on businesses. Initial estimates show that the economy will witness sluggish growth in services, manufacturing and agriculture sectors, increase in unemployment, decrease in government revenue, decline in exports and disruption in supply chains. Lockdown across the country is expected to make the situation dire for the estimated 5.2 million enterprises in the country.
Thus, in order to assess the current situation, "Impact of Covid-19 on SMEs"; an online survey was launched by SMEDA on April 3, 2020 until April 14, 2020. Nine hundred & twenty (920) businesses participated in the survey from all across Pakistan. These 920 businesses have an estimated total annual sales turnover of PKR 29 Billion and employ an estimated 19,641 employees. Moreover, these businesses also employ an estimated 8,950 daily wagers. Most of the business are small in size. 33% of respondents have an annual sales turnover of up to PKR 1 million and 34% employ 1 to 5 employees.
Survey Report highlights the issues being faced by SMEs during lockdown and its impact on employment and production. 95% of respondents/ businesses have reported that COVID-19 and the subsequent lock down has caused a reduction in their operations. Similarly, 92% of respondents have reported a disruption in their supply chain and 23% have reported up to 100% loss in their export orders.
Increasing unemployment has been a major issue during the lock down and 46% of surveyed business have laid off some of their employees. However, 26% report that they will rehire their employees in one month, after the end of lock down. Nonetheless, 89% of SMEs are facing financial issues while 60% have reported issues in selling their product/service and have thus identified areas for public sector support to sustain their businesses and mitigate the impact of COVID-19. These areas include; SME-specific support measures including financial packages, tax relief, guarantees and grants, relaxation in payments of utility bills, support in paying salaries and easing conditions for loan repayments. Details of required support and Survey results are available in full report, which can be downloaded from the link below.