SMEDA's another step towards Ease of Getting Business Information
SMEDA's another step towards Ease of Getting Business Information. Just call "SME Business Helpline" (042) 111-763-111 Monday to Friday (9 AM - 5 PM). Now SMEs can get free information on given areas from experts:
Pre-Feasibility Studies & other Services

Business Registration (Individual, AOP, Company)

Sales Tax on Goods / Services & E-Filing (e-FBR)

Import / Export Procedures (Including WEBOC)

Federal & Provincial Business Licenes

Income Tax & E-Filing (e-FBR)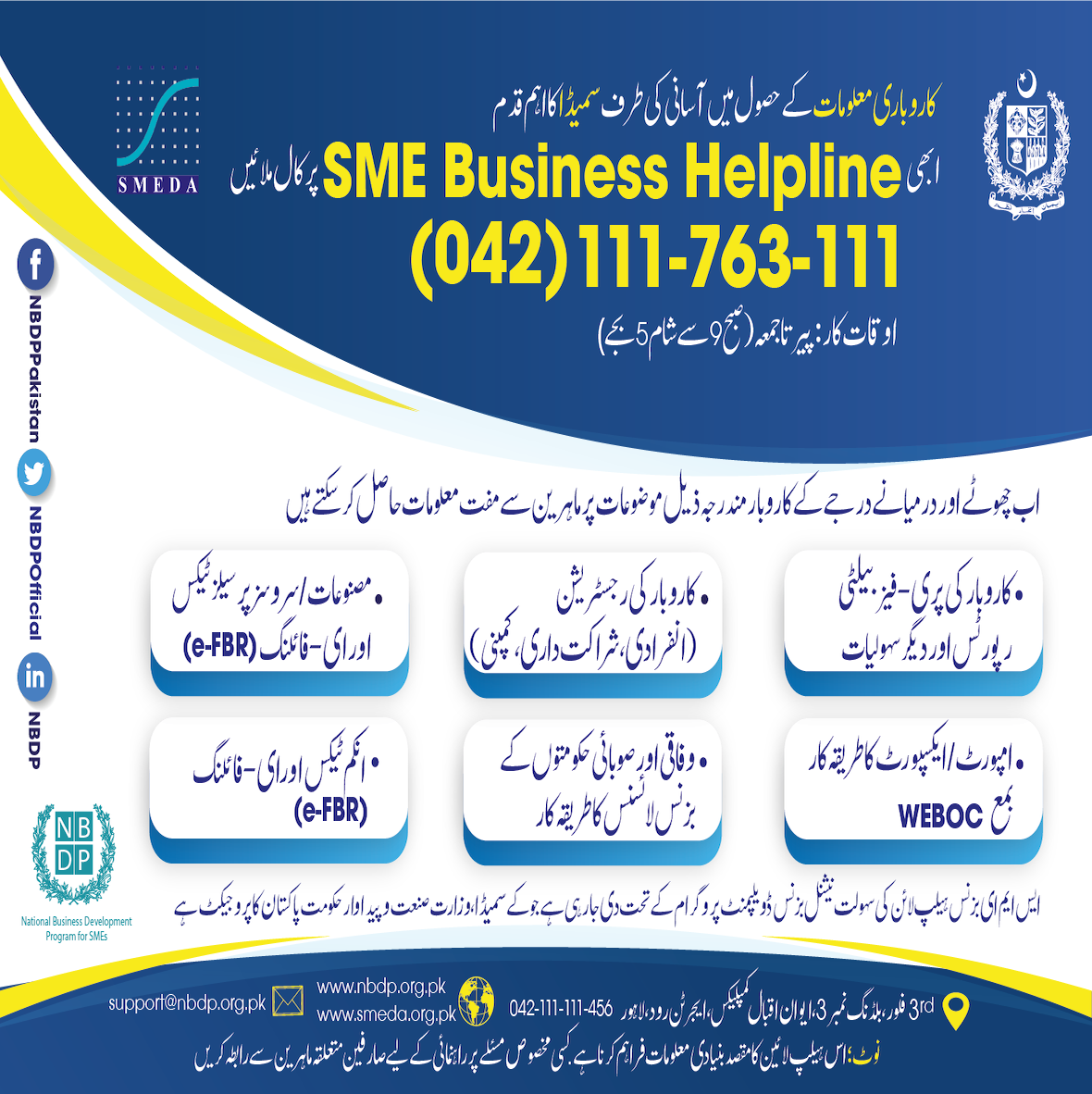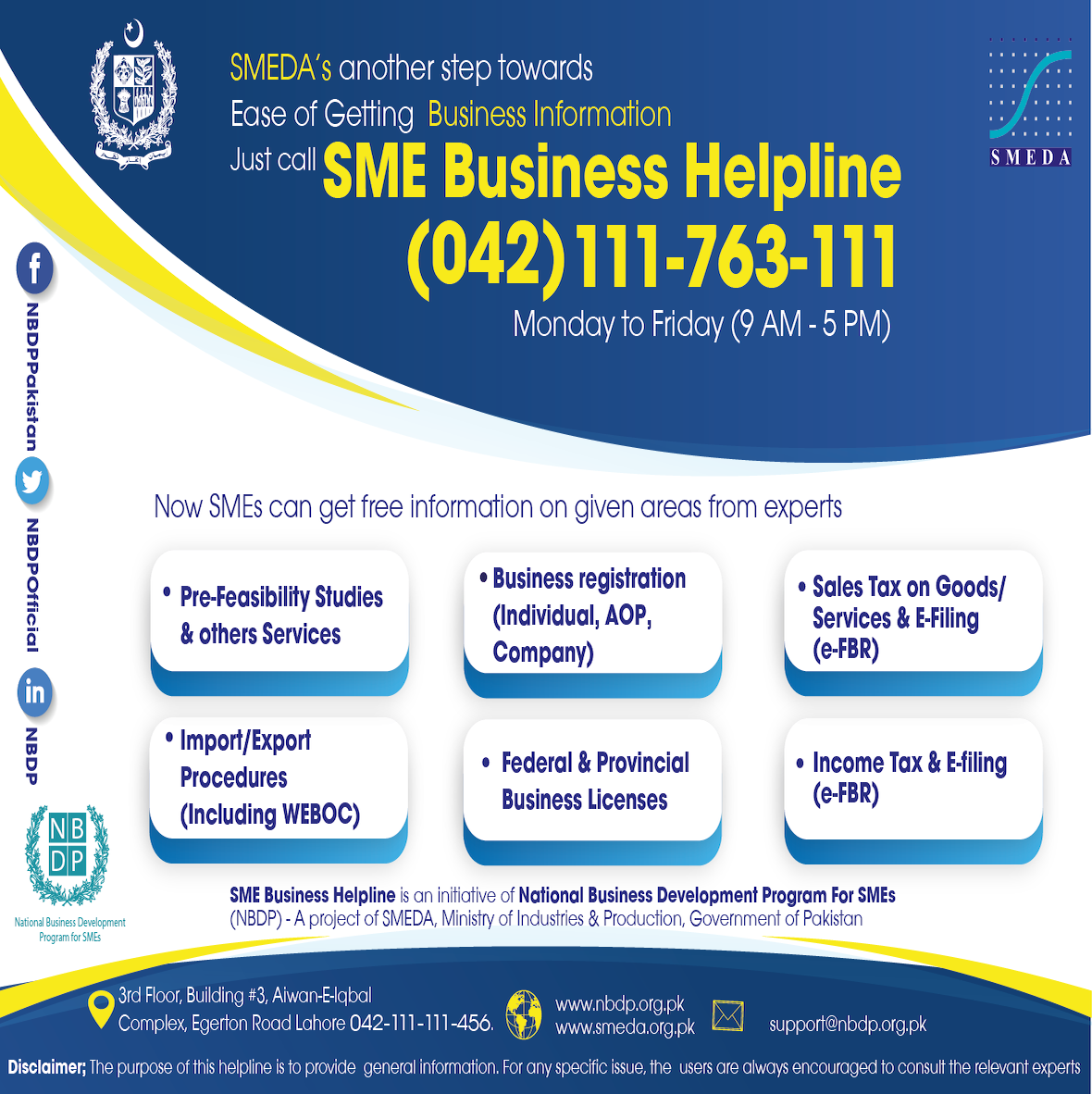 ECC approves Rs.51 billion package for SMEs
The Economic Coordination Committee (ECC) of the Cabinet has approved the prime minister's relief package of Rs50.69 billion for small and medium enterprises (SMEs) through pre-paid electricity and credit loss subsidy of Rs30 billion for the risk sharing facility for the State Bank of Pakistan's (SBP's) refinance scheme to support employment and prevent lay-off of workers.

The meeting of the ECC meeting chaired by Adviser to Prime Minister on Finance Dr Abdul Hafeez Shaikh approved "Chota Karobar- o-Sannat Imadadi package".

Sources said that Finance Division would make available the funds to the Power Division with an expected cost of Rs12 billion monthly for adjustment against the SMEs electricity bills and savings if any, would be surrendered to the Finance Division.

They added that over 3.5 million were estimated to benefit from the scheme, whereas total SMEs in the country were estimated at 5.2 million.

The Ministry of Industries and Production has prepared package namely "Chota Karobar-o-Sannat Imadadi Package" in consultation with Small and Medium Enterprises Development Authority (SMEDA) with the objective to provide financial support to approximately 95 per cent commercial consumers with connected load up to 5KW and 72 percent of industrial consumers with connected load of up to 70KW.

Under the package, commercial consumers would be given support up to Rs100,000 and industrial consumers up to Rs450,000 for three months for May-July 2019 based on estimated electricity consumption and for those meters whose electricity consumption data is not available for the full base period, appropriate average will be used.

The ECC also approved Ministry of Defence proposal for allocation of additional funds in the form of technical supplementary grant to the tune of Rs3.02 billion for the fencing of the Pak-Iran border.

On a proposal of the Economic Affairs Division, the ECC accorded in principle approval to the external debt restructuring of the government by availing the G-20 debt relief and engaging with bilateral donors for individual debt suspension with the proviso that agreements to that effect could be subsequently brought to the ECC for approval.

The ECC also allowed Rs2.5 billion block allocation to the AJK and the GB for disbursement through special arrangement.

The meeting instructed Ministry of Industries and Production to bring up similar relief packages for the agriculture sector including the agricultural tube-wells, as well as transporters and the microfinance sector.

The meeting approved Finance Division proposal with regard to credit loss subsidy of Rs30 billion for the risk sharing facility for the State Bank of Pakistan's Refinance Scheme to support employment and prevent lay-off of workers for those businesses with maximum sales turnover of Rs2 billion.

The government would bear 40 per cent first loss on distributed portfolio (principal portion only) for eligible borrowers, in case of repayments, after being classified as "loss" as per classification criteria under the respective SBP Prudential Regulations. The banks and the DFIs assigned limits under the SBP scheme would be eligible executing agencies.
SMEDA's Survey on Impact of Covid-19 (Coronavirus) on SMEs
Pakistan is facing the brunt of Coronavirus outbreak as the country is in a partial lock down. This has had a negative impact on businesses. Initial estimates show that the economy will witness sluggish growth in services, manufacturing and agriculture sectors, increase in unemployment, decrease in government revenue, decline in exports and disruption in supply chains. Lockdown across the country is expected to make the situation dire for the estimated 5.2 million enterprises in the country.
Thus, in order to assess the current situation, "Impact of Covid-19 on SMEs"; an online survey was launched by SMEDA on April 3, 2020 until April 14, 2020. Nine hundred & twenty (920) businesses participated in the survey from all across Pakistan. These 920 businesses have an estimated total annual sales turnover of PKR 29 Billion and employ an estimated 19,641 employees. Moreover, these businesses also employ an estimated 8,950 daily wagers. Most of the business are small in size. 33% of respondents have an annual sales turnover of up to PKR 1 million and 34% employ 1 to 5 employees.
Survey Report highlights the issues being faced by SMEs during lockdown and its impact on employment and production. 95% of respondents/ businesses have reported that COVID-19 and the subsequent lock down has caused a reduction in their operations. Similarly, 92% of respondents have reported a disruption in their supply chain and 23% have reported up to 100% loss in their export orders.
Increasing unemployment has been a major issue during the lock down and 46% of surveyed business have laid off some of their employees. However, 26% report that they will rehire their employees in one month, after the end of lock down. Nonetheless, 89% of SMEs are facing financial issues while 60% have reported issues in selling their product/service and have thus identified areas for public sector support to sustain their businesses and mitigate the impact of COVID-19. These areas include; SME-specific support measures including financial packages, tax relief, guarantees and grants, relaxation in payments of utility bills, support in paying salaries and easing conditions for loan repayments. Details of required support and Survey results are available in full report, which can be downloaded from the link below.
Honey Processing and Packaging Center has enabled the Country to export prime quality Honey
The Honey Processing and Packaging Center set up by the Small and Medium Enterprises Development Authority (SMEDA) in Swat has enabled the country to export prime quality Honey at competitive prices in the open global markets, besides successfully meeting the domestic demand. It was observed at a projects review meeting of SMEDA held today in chair with Mr. Fuad Hashim Rabbani, Acting Chief Executive Officer of SMEDA. Addressing the meeting, he said that a modern honey processing plant with quality control functions and capabilities to produce refined, high quality honey was an imperative requirement of the country, which has been accomplished by SMEDA under patronage of the Ministry of Industries and Production with the cost of about Rs.38.17 million. The Center has positioned Malakand division as a key honey processing area in Pakistan by assisting the local honey farmers in realization of higher value margins for the final products, he said adding that value addition technology introduced in the center had enabled the area to increase its share in the lucrative markets at national and international market.
The Acting CEO SMEDA was glad to know that the Honey Processing and Packaging Center, operating as a Common Facility Center had provided the sophisticated equipment to process aiary as well as forest honey production of high quality refined Honey for bulk consumption. The technology installed at the center has a capacity to process approximately 2000 kg of honey in an 8 hour shift along with packaging capacity of 1500-2000 bottles of one KG.
It is notable that the Honey industry of Khyber Pakhtunkhwa is spread over to different districts of the province. There are many types of honey produced in Khyber Pakhtunkhwa but Seder (Ber in Urdu) and Acacia Modesta (Plai in Urdu) are produced more in quantity. There are about 3800 Bee-keeping entrepreneurs in Khyber Pakhtunkhwa, who have provided direct employments to over 17500 workers.
It is further to mention that Malakand Division has got unmatched potential in Marble, Granite, Gems, Hydel Power Generation, Horticulture, Apiculture (Honey Bee Farming) and Tourism sectors. These opportunities are translated into establishment of several industries and thousands of informal setups, therefore SMEDA has increased its interventions in the area to explore the potential for growth of SMEs.