Sindh is one of the four provinces of Pakistan and historically is home to the Sindhi people. It is also locally known as the "Mehran" and has been given the title of Bab-ul-Islam (The gateway of Islam). The name of Sindh is derived from the Indus River that separates it from Balochistan and the greater Iranian Plateau.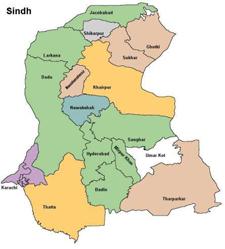 This river was known to the ancient Iranians in Avestan as Indus, in Sanskrit as Sindhu, to Assyrians (as early as the seventh century BC) as Sinda, to the Greeks as Indos, to the Romans as Indus, to the Persians as Ab-e-sind, to the Pashtuns as "Abasind", to the Arabs as Al-Sind, to the Chinese as Sintow, and to the Javanese as the Santri.
Sindh is bounded to the west by the Indus River and Balochistan, to the north by Punjab, the east by the Indian states of Gujarat and Rajasthan and to the south by the Arabian Sea. The capital of the province is Karachi, Pakistan's largest city and financial hub. Most of the population in the province is Muslim, with sizeable Christian, Zoroastrian and Hindu minorities. The main language spoken is Sindhi by about 40 million people, while there exists a significant Urdu-speaking minority.