SMEDA Invites Small and Medium Enterprises like yourself to register on SME Registration Portal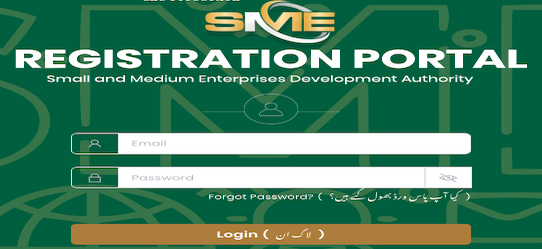 This registration is free of Cost and registered SMEs will be offered free and subsidized services that include:
Benefits of registering at SME Registration Portal:
1. Tax rate reduction of 57% to 83%. No audits for 3 years (currently available for Manufacturing SMEs only)
2. Tax rate reduction by 25% for women enterprises.
3. Minimized NOC and Time Bound approval of Licensing / Registrations / NOCs
4. E-Inspection Portal for verification of inspection / visits and share feedback.
5. Collateral free financing of up to Rs. 10 million
6. Allocation of over 2,800 acres of industrial land benefiting SMEs with access to 6,500 plots in industrial estates across Pakistan.
7. Duty Free import of raw materials under Export Facilitation Scheme, 2021
8. Option of self-declaration in lieu of Bid Security in the form of bank guarantee or CDR, in Public Procurements
9. Separate Window for complaints at the office of Federal Tax Ombudsman
Business Development & Facilitation Incentives:

i. Free registration (worth PKR 40,000) in the world's largest business database (Dun & Bradstreet's, D&B number) on a 'First Come, First Served' basis up-to 5,000 SMEs.
ii. Free access to database of over 360 million international importers and suppliers
iii. Concession in Training Program Registration (SMEDA)
iv. Prioritized access / processing of SME grant application and business development services (SMEDA)
Terms and Conditions apply
The facility of waiving of NoC requirements and E-Inspection (for verification of inspector / inspection visit by provincial departments) is currently available in selected provinces / locations and for selected regulatory regimes only. The scope will be expanded to cover all locations / provinces and regulatory regimes, where possible).

The collateral free lending program, SME Assan Finance (SAAF) scheme, is designed by the State Bank of Pakistan and launched through the following banks: Habib Bank Ltd, United Bank Ltd, Allied Bank Ltd, Meezan Bank Ltd, Bank Alfalah Ltd, The Bank of Punjab, JS Bank Ltd and The Bank of Khyber.

Terms and conditions of the SAAF scheme and that of the participating Banks will apply. For details visit https://www.sbp.org.pk/press/2021/Pr-03-Nov-2021.pdf
SME will have to qualify for the eligibility requirement of the FBR to qualify for Tax Incentives offered. For details please Click Here
Women enterprises can avail reduced rate of tax in terms of clause 19 of Part III of the First Schedule to the Income Tax Ordinance, 2001 as per the terms and conditions provided therein. For details, please Click Here
In order to qualify for utilizing the Export Facilitation Scheme, 2021 for duty free import of raw materials recommendation of SMEDA is required in case of SME exporters as per sub-rule (xi) of Rule 875 for details please Click Here. However, SMEs will have to meet the other eligibility requirements/documents prescribed in the Scheme.For details, you can access the Export Facilitation Scheme, 2021 at https://download1.fbr.gov.pk/SROs/2021821185755580SRO957(I)2021.pdf

The industrial land allocated for SMEs are offered through Punjab Small Industries Cooperation (PSIC), Punjab Industrial Estates Development & Management Company (PIEDMC), Faisalabad Industrial Estate Development & Management Company (FIEDMC), Khyber Pakhtunkhwa Economic Zones Development and Management Company KPEZDMC and National Industrial Parks Development & Management Company (NIP). Please contact the relevant departments to apply for land. Terms of conditions of the industrial estate developer will apply).

To avail SME incentives SMEs will have to comply with the eligibility requirement of the organization offering the incentives. SMEDA and other public / private sector organizations, offering SME incentives, reserve the right to withdraw, amend and add any incentives as appropriate.