The women economic development in Pakistan has been quite ignored and over the years most of the programs/ interventions have been directed towards removing violence against women, women's primary education and health care, women crisis centers and most recently a rigorous drive on political empowerment of women by giving them 20% representation in the National Assembly of Pakistan. Despite governmental commitment and donors efforts to reduce gender inequalities, nothing has been done with regards to developing proper women economic action plan to uplift women socio-economic status. On ad hoc basis, some common facility centers and vocational/technical training institutes to enhance female participation rate have been established which provide traditional skills. On the other hand, to mobilize youth energy into economic sectors, government has launched internship programs and other incentives yet its impact on the grass root level is not visible due to lack of information and knowledge to young females regarding these facilities. The result is that many girls become confined to their homes.
Looking at the demand side, during 2000-2005, a large group of urban based educated women proactively, knocked different government department doors for enterprise development facilitation. But none of these organizations were able to cater their specialized needs such as;
•

Offices on affordable rents
•

Specialised training programs to improve employability of females through diversification in professional skills
•

Direct guidance and support to young and creative potential female entrepreneurs
•

Building strong network of Women Business
•

Information on business documentation
Collectively as well as independently, these intermediary organizations have facilitated on peace meal basis. However, there was a need for holistic program for enterprise and leadership development of women in Pakistan to enhance their potential and facilitate in their endeavours. Hence, SMEDA stepped in to support the development of this marginalized segment of economic enterprise. SMEDA immediately, reached out to businesswomen nationwide through its helpdesks at key business towns around Pakistan.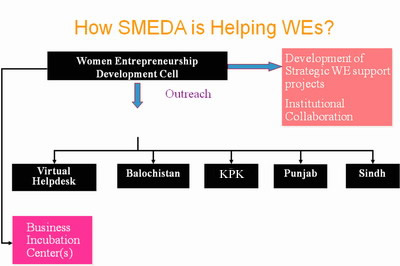 Our extensive interaction with Women Entrepreneurs (WEs) at various platforms clearly indicates that lack of business management skills, information gaps and lack of networking are major impediments in the development of women led businesses in Pakistan. It is in this background, different intervention/ projects are being undertaken by SMEDA, independently as well as with local/ international partners for complementing each others efforts in reaching out for Women Entrepreneurs in Pakistan. The main activities include:
Women Business Development Center (WBDCs): As per the demand of WEs, the WBDCs at Karachi, Quetta and Swat are in process of establishment which will be opening within 2012. Owing to the success and growing demand of WBIC, a proposal for opening new centers across Pakistan including AJK and GB on similar lines has been submitted to government of Pakistan for approval of funding. The objective is so to give equal opportunity to educated house-wives and young girls in other regions for setting up a successful business in a flexible working arrangement that fits well with their role as women. WBICs Clients are women from diverse backgrounds reflecting multi-faceted nature of Women Businesses are its Clients. Especially WEs dealing in manufacturing, trading or services sector (excluding clinical doctors, dentists, lawyers and NGOs) stand to gain the most from this facility. Of course there are flexibility to accommodate novel business ideas, mooted by Women Entrepreneurs (WEs).
Capacity Building Program for South Punjab:
SMEDA's WED Cell during 2011-12 designed a program for capacity building of WEs of South Punjab with consultation of chambers members. The program included, training program titled "Enhancing Exhibition Skills", in which 50 WEs participated. Also provided sponsorship to 20 WEs at Islamabad Expo 2012. Moreover, organized market exposure visit to 16 WEs at Lahore.
Pre-feasibility Studies: Over 180 pre-feasibility studies prepared to assist the start-up and these studies are easily downloadable from SMEDA's website (www.smeda.org.pk). WE oriented studies are Day Care Center, High School, Montessori School, Internet Café, Private Hospital, Medical Transcription, Boutique, Flower Shop, Wooden Furniture Workshop, Beauty Clinic, and many more.
Opportunity in Exhibitions: SMEDA in collaboration with partner organizations have sponsored over 120 Women Entrepreneurs in different local exhibitions and 5 ladies went to SME Technology Fair, 2009 Mauritius.
Marketing Assistance: SMEDA provides advisory services to WEs to develop proper marketing plans, export documentation, labeling, proper brochure & website development along with registration of Trademarks, Industrial Designs and Copyrights.
Business Plan Development: SMEDA develops customized and demand driven business plans for entrepreneurs.
Facilitation for Financing: SMEDA has signed MoU with First Women Bank Limited (FWBL) to provide financial assistance on priority basis to WEs having adequate work experience in their line of business. Moreover, SMEDA offers advisory services assistance for securing finance/credit from various financial institutions. Side by side provide advice on financial cycle management, inventory management, and efficient production management.
Training programs for Entrepreneurship Development: Conducts training programs across Pakistan covering management, technical and skill development training sessions, in which more than 300 ladies have already participated.
Technical Assistance: provide information to WEs on latest technology innovations as well as industry based machinery and tools requirements. Moreover, for energy efficiency management, special team provide hands-on-support.
Industry Academia Linkages: SMEDA has build a close liaison with different universities gender studies department for conducting need based activities such as "Entrepreneurship Courses & Seminars", Internship with WEs, exposure visits to Chambers & Industrial clusters, and meeting with Women Role Models. Some of the institutions linked up with SMEDA are Punjab University-Lahore, Fatima Jinnah Women University- Islamabad, Peshawar University, and Karachi University.
Future Plans
The future strategy has been designed keeping in view the targets set forth in the "National Economic Council Implementation Plan of Framework for Economic Growth 2015-16". We plan to undertake following activities for WEs across Pakistan:
Engagement of Youth: Strengthen our linkages with women colleges/universities to run entrepreneurship development sessions, create internship opportunities and arrange visits to industry.
Connectivity to markets and people: Create more opportunities for WEs to participate in Local Exhibitions, and jointly organize Exposure Visits to different markets e.g., Faislabad, Karachi, Peshawar, Rawalpindi, & Lahore.
Strengthen IPRs:Equip WEs with relevant information for branding, labeling and seeking intellectual property protection for their creative work.
Expanding the network of Women Business Centers (upto 25):As per the demand of WEs, the WBCs at Karachi, Quetta and Swat are in process of establishment which will be opening within 2012. While, the success of WBC in other regions have raised the expectations of WEs operating in other regions and we have received demand for setting up new centers in Multan, Gujranwala, Islamabad, Abbotabad, D.I.Khan, Muzaffrabad-AJK & Gilgit-GB on similar lines.
Conduct a need assessment of Women Entrepreneurs across Pakistan to design comprehensive capacity building program.
Training programs on following topics:
· Power of Social Media (Gmail, Facebook & Tweeter)
· Effective planning for Product launch
· Export Markets & Marketing (non traditional products)
· Business Plan Development
· Legal Issues (Contract Mgmt, Taxation, Company Regt.)
· Export Import Documentation and Financing Schemes
· Small Business Management: Boutique & Textile Designing Business
The programs mentioned above were designed keeping in view the demand of the WEs in that particular region.
SMEDA women clients categories

WEs running businesses from home

Females keen for business

Would be start ups

Need office in attractive commercial location but want to avoid hassles of maintaining an independent office

But don't want to venture on an independent office Straightaway. Need some flexible Setting to test prospects of their business

Still stuck with the Question to do or not to do business. Needing advice and concept clearance
You may become part of SMEDA network by filling in the form. In case, you need business advice, or jointly want to undertake capacity building program for your particular chamber or association members, kindly This email address is being protected from spambots. You need JavaScript enabled to view it. for further details