SMEDA set up SME Pavilion in the Blue Fair held at Multan
Small and Medium Enterprises Development Authority (SMEDA) has set up an SME Pavilion by sponsoring 22 Women Enterprises in the Blue Fair organized by Women Chamber of Commerce and Industry (WCCI), Multan Division in collaboration with Trade Development Authority, Pakistan (TDAP). SMEDA Chief Executive Officer Mr. Sher Ayub Khan stated this in a press statement issued here on Monday. The SMEDA sponsored women entrepreneurs have been selected from under privileged areas of southern Punjab and Khyber Pakhtunkhawa, he said adding that out of 22 stalls, 13 have been given to women entrepreneurs of KP and 9 to Southern Punjab. He further said that the major products displayed by the women entrepreneurs at SMEDA Pavilion belong to the sectors like Textile, Leather, Interior Designing, Jewelry, hand-made embroidery, Cosmetics and Handicrafts.
CEO SMEDA said, "we continuously work with its partner organizations for exploiting marketing possibilities for WEs, including participation in various exhibitions". The Blue Fair Multan provides a good opportunity to WEs across Pakistan by displaying their products and the Blue Fair of Multan has been an ideal platform in this regard since last couple of years, he added and acknowledged that the fair had always been an effective source for women entrepreneurs to develop contacts with buyers, other WEs in similar product lines and to get enrolled with TDAP as well as WCCI for further export development activities designed for WEs.
Meanwhile, Ms. Tania Buttar, Incharge SMEDA's Women Entrepreneurs Development Cell informed that SMEDA Pavilion was specially visited by Mr. S.M. Munir, CEO TDAP, Mr. Zubair Tufail, President FPCCI, Mr. Atta-ur-Rehman, VP, FPCCI, Mr. Khawaja Jalal-ud-Din Rumi, President MCCI, Mr. Iftikhar Ali Malik, Vice President SAARC Chamber, Ms. Masooma Sabtain, VP, FPCCI and Ms. Filza Shah, S.V.P WCCI-MD MS. They all appreciated SMEDA efforts and support to chambers nationwide. They admired role of SMEDA in promoting entrepreneurship among women of the country. Later, they took a round of the stalls set up in the SMEDA Pavilion and examined the products displayed over there.
It is notable that one of the stalls of SMEDA Pavilion has been furnished as a facilitation center for the exhibitors, which is bearing information on SMEDA's current initiatives including Prime Minister's Youth Business Loan, Women Business Development Centers and the business development services available at SMEDA. A large number of the women entrepreneurs have visited the SMEDA's facilitation Center as well.
SMEDA has developed a new Research Report on "Cheese: Value Added Dairy Product - Prospects for Pakistan"
Pakistan ranks among top five milk producing countries globally. Dairy and livestock sector consists of approximately 80 million heads of cows and buffaloes and 100 million heads of sheep and goats, producing 53 million tons of milk besides producing other products such as meat, skins etc. Livestock sector contributes almost 58.6% of the value added products in agriculture and 11.6% to the GDP which depicts high growth in agriculture is expected to be led by the dairy and livestock sector. Within the livestock sector, milk is the most important commodity with demand growing at 10-15% annually, yet production increasing by only 3–4% per annum. Due to the milk supply gap of 3.5 billion litres in 2015-16, value added products such as cheese, butter and powdered milk are being imported to meet rapidly rising domestic demand.
Despite the fact that Pakistan's ranking is amongst the highest in the region and the world, the country has not been able to make efficient use of resources to fill up its demand and supply gap for dairy value added products, hence the focus is on import of these products rather than exporting to the world market. Some of the main reasons for the gap are efficiency losses in production, lack of awareness in farmers and producers communities for increasing milk yield, limited integration within the dairy value and supply chain, policy issues and resource constraints to implement initiatives at macro level.
Development of the integrated dairy sector to produce value added products such as butter, whey, yogurt, cheese etc., compliant with international food safety standards is important to enhance trade opportunities for Pakistan in the global market for export. Similarly, by exploiting the potential and producing value added products within country may reduce import of these products from the world.
This study aims to highlight supply and trade related information in different categories of cheese only. An assessment of Pakistan's cheese production and trade structure has been conducted in consultation with the stakeholders in the public and private sectors to evaluate the performance of the sector, applicability and relevance of the existing situation to foster growth and obtain viable investment options that can be recommended to emerging as well as existing entrepreneurs and relevant institutions for inclusion in their vision and agenda.
Download the Complete Report: Cheese: Value Added Dairy Product - Prospects for Pakistan
Economic Ties with China to Build new Export Markets
The economic relations with China should also be exploited to build new export markets for Pakistani products in Chinese areas around Pakistan's borders. It was stated by Mr. Asad Umar, Chairman of the National Assembly's Standing Committee on Industries and Production while presiding over the Committee's 25 meeting today at SMEDA Head office. The meeting was attended by members of the Committee including Mr. Muhammad Asim Nazir, Sardar Mansab Ali Dogar, Syed Muhammad Asghar, Mr. Qaisar Ahmad Sheikh, Chaudhry Riaz-ul-Haq, Rana Muhammad Qsim Noon, Mr. Muhammad Muzamil Qurashi, Ms. Sajida Begum, Maulana Muhammad Gohar Shah and Mr. Abdul Hakeem Baloch. Mr. Sher Ayub, CEO SMEDA and Ms. Razia Sultana, Secretary of the Committee were also present on this occasion.

(Mr. Asad Umar presiding over 25th Meeting of the National Assembly's Standing Committee on Industries and Production at SMEDA Head Office. MNAs Mr. Muhammad Asim Nazir, Sardar Mansab Ali Dogar, Syed Muhammad Asghar, Mr. Qaisar Ahmad Sheikh, Chaudhry Riaz-ul-Haq, Rana Muhammad Qsim Noon, Ms. Sajida Begum, Maulana Muhammad Gohar Shah, Mr. Abdul Hakeem Baloch and Ms. Razia Sultana (Secretary of the Committee) attending the meeting. Mr. Sher Ayub, CEO SMEDA is also present.)
Chairman of the Committee advised SMEDA to conduct a study on the potential existing in Chinese markets for Pakistani products. He suggested to have partnership with some Chinese research organization or a reputable university of China. He observed that the Chinese areas existing around Pakistan borders could be the potential export market for Pakistan and research should focus on such areas for demand and competitiveness of Pakistani products.
Mr. Asad Umar evinced keen interest in impact analysis of SMEDA initiatives on economic development of Pakistan. He directed SMEDA management to prepare an exclusive presentation on outcome of SMEDA services extended to the SME sector since last two decade and desired to scheduled next meeting of his committee specially for reviewing the presentation. He also wanted to include details of the projects to be conducted by SMEDA under PSDP.
Earlier, Mr. Sher Ayub, CEO SMEDA welcomed the NA Committee and gave a briefing on performance of SMEDA. He apprised about the initiatives taken both at mirco and macro level for development of SMEs in the country. He told that SMEDA's feasibility studies and business plans had helped to start up a number of the new SMEs in Pakistan. He said despite very low budget and limited human resource, SMEDA had helped the existing SMEs reduce their hurdles and done handholding of the new SMEs to start up.
New District Profile of Nowshera, Khyber Pakhtunkhwa has been uploaded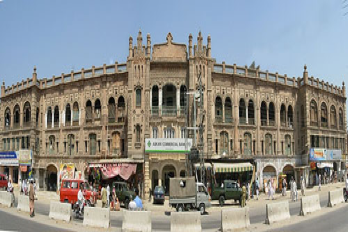 NOWSHERA (Pronounced "Nau Shaar" or "Nau Khaar" in Pashto, "Nu Shera" in Hindku and "Nowshera" in Urdu languages) is one of the most fertile, peaceful and strategically located central districts of the Khyber-Pakhtunkhwa Province of the Islamic Republic of Pakistan.
The district was a part of Afghanistan as Nowkhaar Province till it was annexed into British India via the Durand Line Agreement. The district was also part of the Peshawar Division until the reforms of the Government of Pakistan.
There are three military cantonments situated in Nowshera district, which are Cherat cantonment, Nowshera cantonment and Risalpur cantonment. Therefore, Nowshera is also one of the most prominent districts of Pakistan.
Earlier, Nowshera was a Tehsil (Administrative sub-division) of Peshawar district. Its status was upgraded to district level during. It is also one of the largest cities of the province and located on the Grand Trunk Road 27 miles due east of Peshawar at 34°0'55N 71°58'29E.
Nowshera cantonment and city are situated at opposite sides of the bank of Kabul River. To the North-East is Attock district of Punjab province. To the north are Swabi and Mardan districts. To the northwest is Charsadda District and in the west is Peshawar District. On south it touches the Kohat District boundary. Frontier Region (FR) boundary i.e. Darra Adam Khel also borders with Nizampur and Cherat areas of Nowhsera District.
Population density is estimated to be 500.2 persons per km. The annual population growth rate was 2.9% and the proportion of urban dwellers was 26%.
Download the complete district profile of Nowshera Click here
Call for Awards - Convert Your Clean Technology Innovation Into A Successful Business
The World's largest clean Technology Competition is looking to help Pakistani Entrepreneurs (SMEs and Startups) with the best ideas that deal with today's most imperative energy, environmental and economic challenges.
The Cleantech Programme in Pakistan is open for applications. This competition is open to all those living in Pakistan with business ideas and prototypes under the eligible categories.
Subcategories